University Baptist Church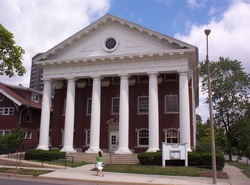 The University Baptist Church seeks to impact the community by bringing people into fellowship with God and one another. We focus on the five areas of ministry: Worship, Study, Prayer, Fellowship and Service.
For more information, see the following pages:
What We Believe
What Is Membership
Church History
---
Affiliation

The University Baptist Church is a member of the American Baptist Churches of the Great Rivers Region. We support the worldwide mission of the denomination and the larger body of Christ. Out of our community comes leaders who serve Christ around the world. UBC activities provide a wide range of possibilities for those who want to share the joy of life together as churched Christians.

We are also proud to host the Urbana Theological Seminary offices (

http://www.urbanatheologicalseminary.org/

)

Location and Services

The church building is open from 8:30 a.m. to 10:00 p.m. daily during the Academic Year and from 8:30 a.m. to 5:00 p.m. during summer and breaks. The office is open from 8:30 a.m. to 5:00 p.m. weekdays.

Sunday worship is held at 11:00am with Bible study starting at 9:45am. Other activities are scheduled throughout the week.

University Baptist Church News

---
The University Baptist Church is a Christian community of memory, hope and belonging. We are a unique unity of students, University staff and community members committed to living the New Testament vision with people on campus and in the surrounding region.