Alumni

Welcome to University Baptist Church and Baptist Housing Ministry alumni website!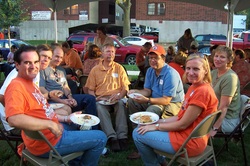 We have a long and proud tradition of alumni, and we seek to maintain close ties with you. Here you will find information about upcoming events like Homecoming, the Koinonia and Stratford Alumni Associations, alumni newsletters, and links to social networking groups for our alums.
If you would like to report an event or update your information, please email our Advancement Coordinator at dcarico@uofibaptist.org
.
---
Sign Up for Alumni Updates
You can sign up for the Alumni Newsletter
here